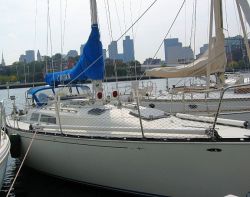 As many of you know, I have been on the search for a boat... actually, this search started a few years ago, then took a break, and has been in full swing for a few months now. I have settled on a few boats which I am looking at more closely. I traveled to Boston a few weekends ago to look at this boat in particular... and thought I would post a little about her, so people can get an idea of what I am looking at.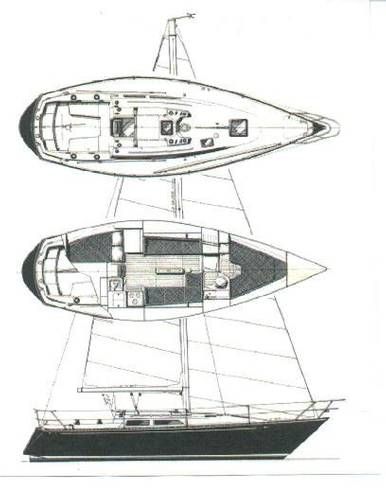 This is a C&C 34 built in 1980 (the yachtworld listing). She is very well equiped with a decent sail inventory, and some excellent electronics. The previous owner did alot of racing with her, and she always performed well, which is good to hear.

There are a few issues that need figuring out. The only big issue, which I was informed today by the broker that is not such a large issue, is that the keel-hull joint has a crack in it, from grounding in reverse. It has had this crack for a while, and the owner had the keel pulled, and re-seated some years ago, and the crack came right back. It does not appear to be structural, and is not, according to the broker, leaking into either the hull, nor the keel. This is likely a purely cosmetic issue, and not something to necessarily be worried about, however, if I do decide to make an offer on her, a marine surveyor will look more closely at this to be sure.

That is the only big issue as I can see it... although there was a little water in the bildge, so it was difficult to see the keel bolts, and the condition of the bildge. Generally, the interior was dirty, and since the mast was removed, various parts were spread around, making her look a little messy. She just needs a good cleaning.


Here is a video I took of the interior... at one point I turn the camera sideways, don't hurt your neck trying to make sense of it, and don't worry, I turn it back after I realize I am dumb for rotating it. And, yes, I did film the head.